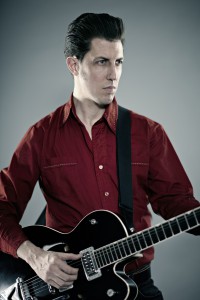 "Melodic lines elevating each tune… it doesn't get much better than this"
Errol Nazareth, Toronto Sun
Living Like I'm Living is the brand new release from Toronto based country/rockabilly artist, Alistair Christl. True to his "Authentic, original Honky Tonk sound", Alistair's 4th release features 10 original tracks performed with help from Russ Bosswell (Corey Hart, David Wilcox), Burke Carol (Justin Rutledge, Ian Tyson), James McKie (Buffy Sainte-Marie, Ron Sexsmith) and is produced & engineered by Dave Misener (Royal Wood, Jerome Godboo).
A student of old country, rockabilly and western swing, Christl's impressive catalogue embodies a vision and sensibility that are reverent to the past yet, uniquely his own. 5 nights a week, over 15 years in the vibrant Toronto roots scene has earned him his present standing as a hardworking original; someone who brings that authentic twang of country's greats to his outstanding written material.
His guitar style (see Chet Atkins, James Burton) has landed him the lead guitar spot in Return To Grace (Elvis Tribute; Mirvish Thearter, Thailand Cultural Centre), Rock and Soul (Motown Tribute; Fallsview Casino), 4 years with rockabilly hall of famer, Ronnie Hayward and countless other artists and bands.
But he his best known for his songs and live performance.
Alistair Christl currently lives and work in Berlin, Germany.